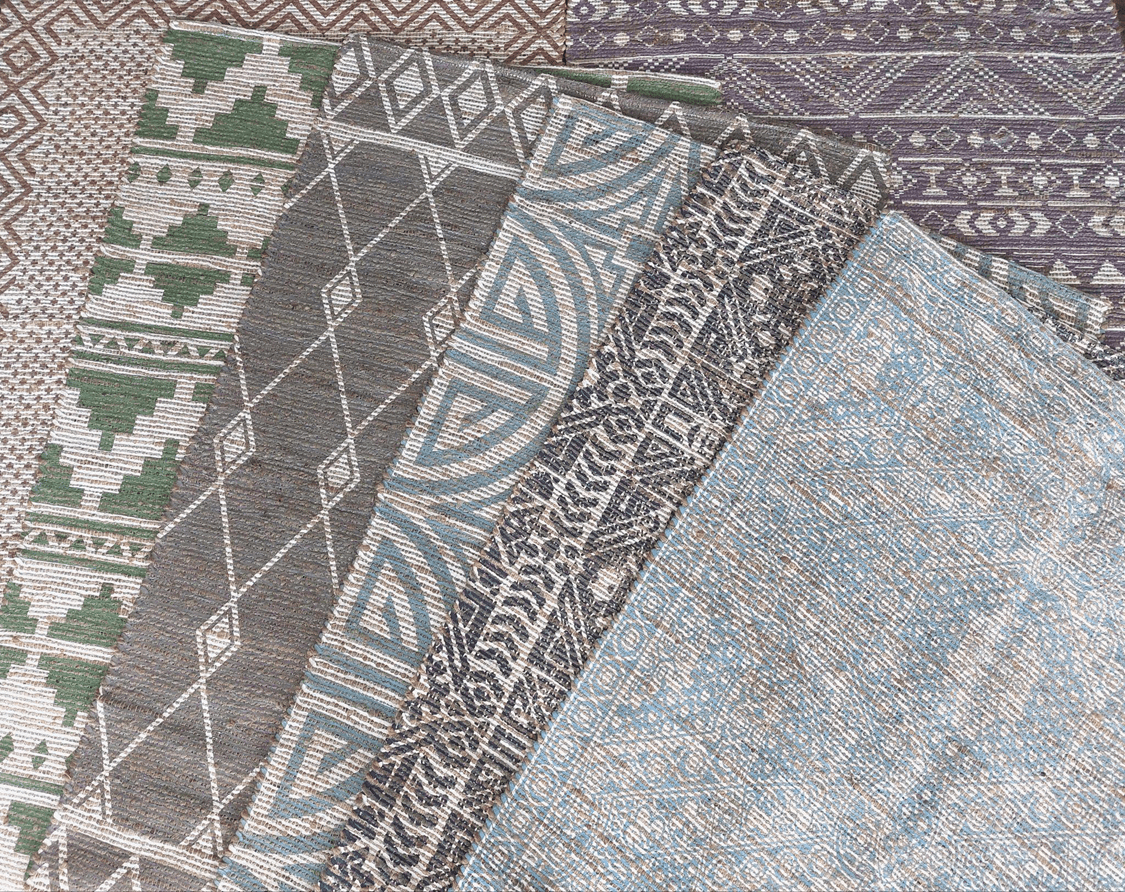 Patterned rugs add personality and a vibrant energy into a room. Timid to try? We're here to help you mix them like a pro. Patterns are more versatile than you might think. Sure, without a plan, a room could look too busy with multiple patterns competing for attention. Intention goes a long way to ensure a polished finished product. There are so many beautiful patterned rugs out there to create a dynamic look, it makes sense to use more than one. The secret is creating a balance of color, style, texture, and scale. Read on to learn how these four elements will help you successfully mix and match rug patterns.
Why Mixing Patterns is Fun
A room that's too matchy-matchy is a yawn.
Mixing patterns will add depth and dimension to your home.
Patterns can create visual boundaries between spaces. This is especially useful for living rooms with large, open floor plans.
Allows you to experiment with two different looks.
If you're on a budget, mixing rugs is a solution to still have your dream rug featured in your home. Get the less expensive rug in the larger size, and use your exciting patterned rug as an accent.
You'll achieve a more personalized look to your home rather than a Pinterest copy-and-paste.
If you decide to change your style down the road, or even update the room seasonally, it will be easy to swap out one of your patterns. A different rug has the potential to change the look dramatically.
Variety is the spice of life.
Color
A way to introduce multiple patterns without the chaos is keeping the rugs within the same color or color palette. The use of multiple patterns will create a dynamic juxtaposition. By using the same color, you'll tie everything together for a cohesive look. This can be done with neutrals as well as vibrant color choices. For this to work, you'll want to take into account the other colors in the space.
There's also the option of using more than one color. To do this, look for complementary colors when exploring rugs. A complementing color scheme will create an appealing visual flow to the space. Feel free to choose a bold color combination. As long as the two rugs have the same dominant color included in their respective patterns, the rugs will feel unified when combined.
Style
There are some design styles that are more welcoming to multiple patterns. With boho and eclectic themes, the styles are energetic, but the rules are more relaxed. The overall idea of the looks involve mixing different elements together. Boho rooms have a free-spirited aesthetic, and aren't restrictive with color so there is a lot of flexibility to experiment. The global patterns found on Persian rugs and kilims would fit in well inside a boho-styled room. Eclectic decor encourages a mix of pattern, color, and texture. The style comes alive when combining seemingly contrasting elements. To accomplish this, try a simple pattern and a complex pattern. For example, start with a strong geometric patterned rug. Pair with a pattern that almost looks like a solid, such as a rug adorned with understated lines.
A mix of patterns could also work well in a transitional style room. Transitional decor combines traditional and contemporary looks, or in other words, the old and new. For example, you could use a modern print, like a subtle striped print in a neutral shade. Then, integrate a second rug that's full of vintage charm, such as a floral print. This creates a striking mix that keeps things fresh and updated.
Texture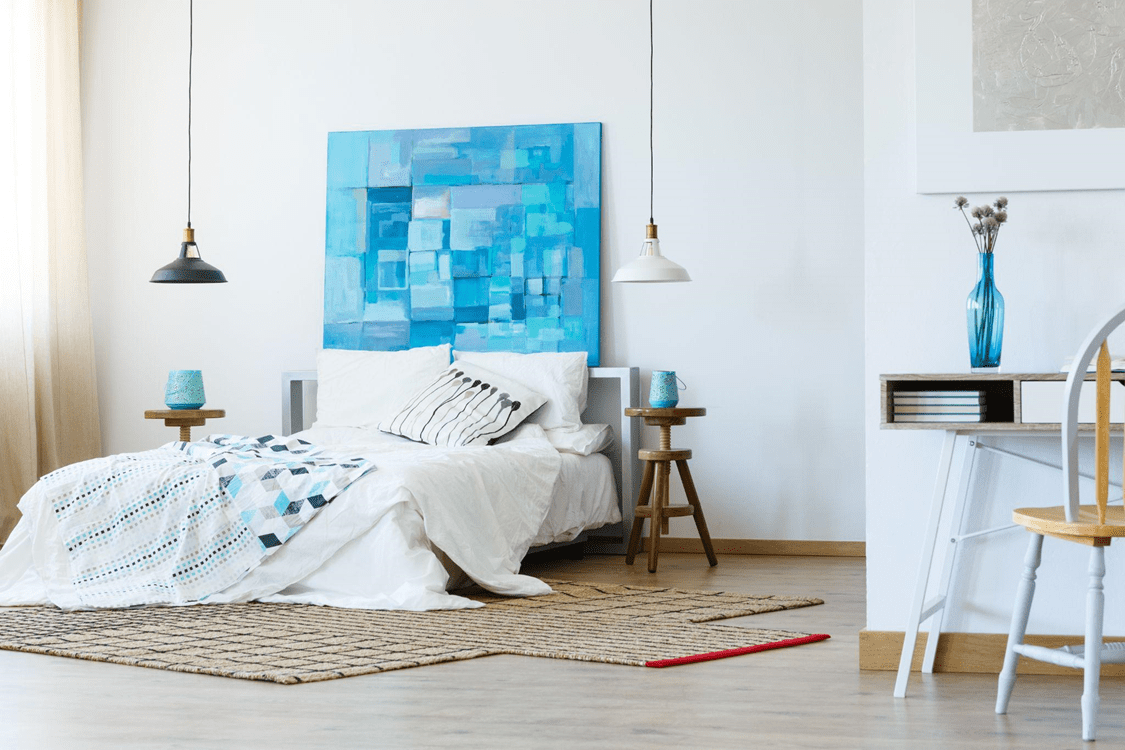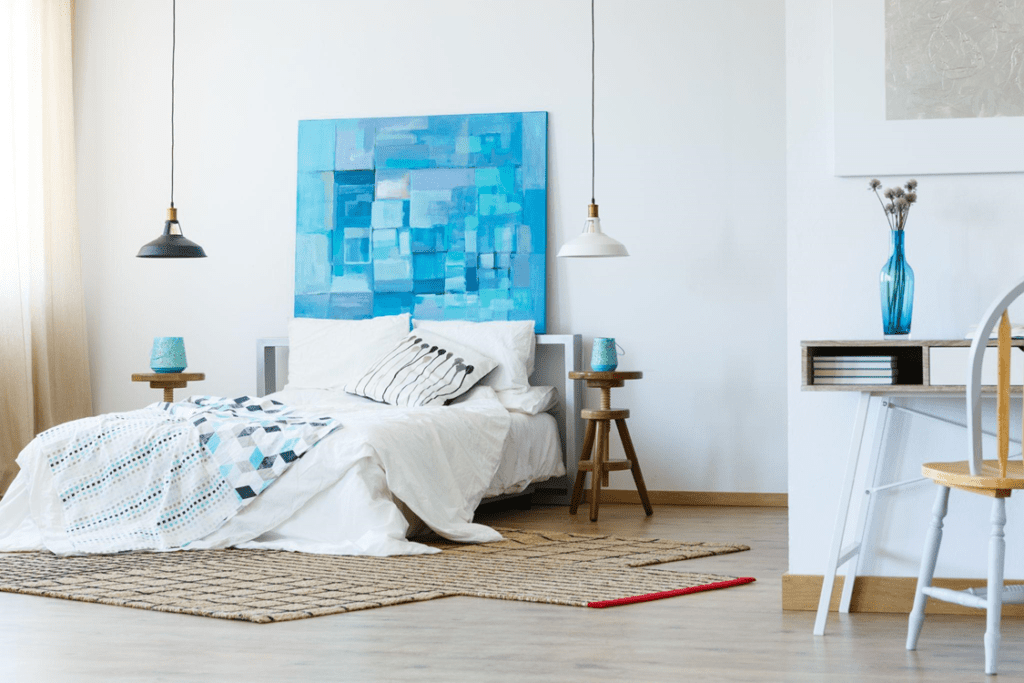 https://www.shutterstock.com/g/Ground+Picture
Mixing textures will create a balanced look while providing depth. An organic/natural fiber rug highlights a patterned rug beautifully. A few examples of natural rugs are jute, sisal, and bamboo. These plant-based materials are ideal for layering rugs as well. Use them as your base and then top them with a bold patterned rug. The result is ultra cozy comfort.
A hide style rug creates a unique style statement and will add to the texture variation. Mixing an organic pattern, such as a cow print, with an angular-patterned rug would create a visually striking effect. If you are feeling adventurous, layering a hide rug on top of a patterned rug is a cool design idea to create an engaging contrast.
Scale
Here is a design trick you can steal: varying the patterns' scales will help you combine two patterns successfully. What that means is using two different-sized patterns. This will balance out the proportions. For example, starting with a large diamond pattern, and then combining it with a rug featuring a medium or smaller diamond pattern. The beauty of this technique is that it works for different patterns as well. You could go with a large floral pattern, and then add in a small lined print. Playing with scale will engage the eyes as they enter a room instead of overwhelming them.
A way to maintain cohesion when mixing different pattern sizes is by being mindful of color. As mentioned above, utilizing the same color or color palette will help in unifying the rugs. A similar background color between the two rugs, for example, can work very well. If you're worried about going overboard, go simple with the rest of the room's decor. For example, using solid-colored throw pillows on the sofa.
Now that you're a pattern master, have fun when choosing your rugs. Creating balance with color, style, texture, or scale will be the key to pull it all together. You'll find that mixing patterns will give you an exciting and personalized look to your home.